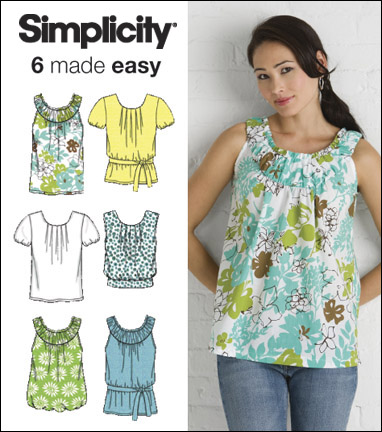 Pattern:
Simplicity 2892, View D
Fabric: 100% quilting cotton, buttery-yellow print with orange and pink flowers
Notions: Orange thread
Time to Complete: ~4 hours
First Worn: At work on June 9, 2011
Wear Again?
Yes
Total Cost:
~$5
I've had this pattern in my stash for a while and have been meaning to make it up for ages. After my
teacher appreciation quilts
I kind of needed something quick and easy to sew to get me back in the groove. I have a bunch of quilting cotton for some reason and I picked a print that I thought would look cute with this pattern and was similar to the pattern front photo. Note - I'm really bad at visualizing what fabrics to use with a pattern and what the final result will look like so I tend to mimic the front cover photo look. I need to get out of this rut. I think looking at Flickr and pattern reviews beforehand will help me a lot.
I think cutting the pattern pieces and fabric took the longest percentage of time. I bet I spent 1.5-2 hours! Cutting the pattern pieces and the fabric out is my least favorite part about sewing. I wish I could hire someone to cut all my patterns - any takers? Side tangent (but will come around shortly) - I have a mound of ironing, OK, it is more like a mountain than a mound, and therefore have no clothes in my closet to wear. So I thought that instead of ironing I would "whip" up a shirt and wear it the next day. What was I thinking? It got me sewing again so I guess I shouldn't complain. But, I know what you're saying - where is the logic?! Why doesn't she just iron, for hell's sake?!
Based on my measurements I cut a size 14 out. I should have read the pattern reviews on this one because I should have cut a size 12. I ended taking in the side seems about 2 inches on both sides (and will probably take in more before I wear it again) and reducing the armholes. I asked Terence if the shirt made me look frumpy and instead of being smart he told me I looked like a "frumpenator" and a "frumpster" and any other word you could substitute frumpy for. But he said since I made it he loved it - he tried to win points but miserably failed!
I think if I take in the sides a bit more and only wear it with fitted pants and skirts it will look good. Unfortunately, I think it looks homemade and the front yoke is a bit loose so when I bend over I flash the whole world. But I guess since it is homemade, that isn't such a bad thing. On the other hand, if you are a good seamstress, the garments you make should look store-bought. Since I'm just starting, I'll give myself a little slack.